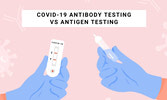 In our previous blog, we covered the latest COVID-19 updates as well as vaccination and testing updates. Today, we'll dive deeper into the importance of testing, where to get tested and the differences between antibody testing and antigen testing for COVID-19.
Why Testing Is Important
It's important to get tested as it's the only way to confirm if you have COVID-19. Knowing if you're infected can help you protect your family and the people you encounter. It will help reduce the spread of the virus and prevent outbreaks. Currently, over 55,451,431 total COVID-19 tests have been performed in Canada. What are some of those tests? We'll cover that next!
What Is an Antibody Test vs. an Antigen Test?
Antigen Test: This test measures bits of proteins on the surface of the virus called antigens. Material for this test is collected from your nose or throat with a long swab. Antigen tests are considered rapid and take only 15-30 minutes but are less accurate than a PCR test. Rapid antigen tests are most accurate when done within a few days of the start of your symptoms, which is when the largest amount of virus is present in your body. If an antigen test is negative, you will need a molecular test to confirm that you do not have COVID-19. This test can:
Be used to quickly determine who has an active infection

Help identify people who are contagious to others

It is a less expensive test than a molecular test
Antibody Test: This test measures antibodies in the blood (if you've had an immune reaction to the virus). Material for this test is collected with a blood test by drawing blood at your arm or from a finger stick. Depending on which antibodies are measured, this test can tell if you've had the virus and if your body (immune system, specifically antibodies) has begun to fight a COVID-19 infection or if you've had an infection for several days. The antibody test is good for determining if you've had COVID-19 after a longer period of time as it takes at least a week after being infected for enough antibodies to develop to be detected in your blood, so this test shouldn't be used to diagnose an active infection.
Immunoglobulin M (IgM) is the first antibody that is formed against a germ, so it appears on tests first, usually within 1-2 weeks

Immunoglobulin G (IgG) appears on tests about 2 weeks after the illness starts

IgM usually disappears from the blood within a few months, but IgG can last for years

Some antibody tests test for IgM and IgG and some only test for IgG

It can identify people who had an infection in the past, even if they were asymptomatic
Where and How to Get Tested
If you suspect you have COVID-19 or may have been exposed, taking the appropriate measures is important to protect your family and those around you. Start by taking a test! In partnership with Promedica Canada, Advanced Care Respiratory Network offers Rapid Antigen, Rapid Antibody and Travel PCR testing. Test pricing starts at $40 for antigen and antibody testing. Tests are currently available at our Sherwood Park, North Edmonton and Spruce Grove locations as well as at the PulseAir location in Edmonton. To view the latest locations, check out our website.
Book your appointment now by contacting us at 1-866-521-2726 or email at covidtest@arcnetwork.ca.