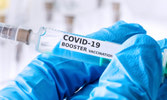 Since COVID-19 appeared in late 2019, the world hasn't been the same. We've had to adjust to living with this disease and protecting ourselves, our loved ones and our communities. Now that we're in 2022, you may be wondering: what's the latest on COVID-19 testing, vaccinations, variants and more? We'll be covering all of that in today's blog.
Current COVID-19 Updates
A new variant of COVID-19 was found last November in South Africa named Omicron and designated a variant of concern by the World Health Organization (WHO). This variant has spread to more than 145 nations, including Canada, and has similar symptoms to COVID-19. It is not yet clear whether Omicron is more transmissible compared to the other variants, including Delta. Early findings suggest that there is a reduced risk of hospitalization for this variant but the WHO warns that it should not be dismissed as mild. In Canada, there are around 2,822,614 total COVID-19 cases with about 323,113 active cases, 2,467,674 recovered, and 31,827 deaths.
COVID-19 Precautions and Recommendations
The WHO recommends that individuals protect themselves and others by taking the necessary steps to reduce the spread of the COVID-19 virus. The most effective steps individuals can take include:
Keeping a physical distance of at least 1 meter

Wearing a well-fitting mask that covers the mouth and nose

Opening windows to improve ventilation

Avoiding poorly ventilated or crowded spaces

Keeping hands clean and washing them often

Coughing or sneezing into a bent elbow or tissue

Getting vaccinated when it's their turn
COVID-19 Vaccination and Boosters
As previously mentioned, one of the most effective ways to prevent yourself and those around you is by getting vaccinated. Free vaccines are available to everyone in Canada and there are several authorized vaccines available including AstraZeneca Vaxzevria, Janssen (Johnson & Johnson), Moderna Spikevax and Pfizer-BioNTech Comirnaty. Currently, around 82.94% of the total population has received at least one dose of a COVID-19 vaccine and about 77.10% of the total population is fully vaccinated. Boosters are just as important and it is recommended that individuals receive them as protection from the primary series of COVID-19 mRNA vaccines has been found to decrease. Booster doses:
Can increase the immune response

Are expected to offer enhanced protection against infection and severe disease

May help reduce the spread of infection
Consult with your province, territory or local public health authority, as booster eligibility may differ by region.
COVID-19 Testing and Importance
Over 55,451,431 total COVID-19 tests have been performed in Canada. Testing is important as it's the only way we can confirm if you have COVID-19. Knowing if you're infected can help you protect your family and the people you encounter. It also helps us reduce the spread of the virus. When someone tests positive for COVID-19, they can be isolated at home or, if needed, in a hospital. Testing is a helpful tool to:
Find and isolate people who have COVID-19 in order to prevent the spread to others and prevent outbreaks

Follow up with close contacts of cases so they can self-isolate, monitor symptoms and get tested

Knowing how many people are infected helps in understanding the level of risk in a community

Inform public health actions that are put in place
Where to Get Tested
If you or a loved one needs a COVID-19 test, Advanced Respiratory Care Network and PulseAir now offer Rapid Antigen, Rapid Antibody and Travel PCR Testing in partnership with Promedica Canada. Pricing starts at $40 for Antigen and Antibody Testing. Currently, we offer these tests at our ARCN Sherwood Park, North Edmonton and Spruce Grove locations, as well as our PulseAir location in Edmonton, but be sure to check our website for our latest location offerings. Book your appointment now by contacting us at 1-866-521-2726 or email at covidtest@arcnetwork.ca.