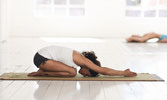 For someone with asthma, treatment is typically a combination of medication and preventive measures. Millions of people around the world have this chronic inflammatory disorder. Many people who deal with asthma have found benefits in yoga, specifically for asthmatics, which has helped alleviate symptoms and provided relief. Here are some yoga tips for asthmatics.
Benefits of Yoga for Asthmatics
Yoga is a form of exercise typically used for relief and relaxation. For someone with asthma, yoga could assist in teaching you to control your breathing which overall will reduce stress. Yoga allows you to better your posture which opens your chest to improve breathing. Yoga can be used as supplemental therapy for someone with asthma but has not been proven to have a definite benefit. If you are looking for a form of exercise or supplemental therapy for asthma, consider giving yoga a try, many have seen great benefits!
Asthmatic Yoga Breathing
Before practicing yoga poses, it is very important to practice your breathing for the best results. When practiced correctly, it allows you to gain control of your breathing to promote more effective breathing in your daily routine. Here are some breathing exercises for asthmatics.
Buteyko
Benefit: The major benefit of Buteyko breathing is that it is designed to improve certain asthma symptoms, such as coughing and wheezing.
How To:
Take a small breath and hold for 3-5 seconds each exhaling through your nose; complete several times.
Pinch the bridge of your nose with your pointer finger and thumb, then hold your breath for 5 seconds. Breath normally and repeat if symptoms continue.
Diaphragmatic
Benefit: Diaphragmatic breathing helps to reduce the effort required to breathe by opening airways and building strength in your abdomen. Doing this exercise can help those with asthma soothe their symptoms and increase lung function.
How To:
Complete this exercise by either sitting or lying down with your hand flat on your belly. Keep your chest still by placing your other hand flat on your chest.
Inhale through your nose and exhale through your pursed lips. Your exhale should take three times longer than your inhale.
Alternate Nostril Breathing
Benefit: Alternate nostril breathing is an exercise to provide stress relief while decreasing shortness of breath from asthma.
How To:
Sit on the floor with your legs crossed as you exhale.
Place your left thumb on your left nostril and inhale through your right nostril.

Place your ring finger on your right nostril and exhale through your left nostril, repeat.
Asthmatic Yoga Poses
Asthmatic yoga poses are an opportunity to put your breathing exercises to work. Yoga poses allow for improved cardio and better respiration. These poses are a great exercise that encourages flexibility, stress management and relief, and improved focus.
Cobra
Lay on your stomach with your palms on the floor under your shoulders, fingers spread wide and facing forward. Straighten your legs behind you, about hip-width apart.

Push your pelvis to the floor and lift your upper body by pressing into your hands.

Keep your hips and chin still as you roll your shoulders back. Hold for 20-30 seconds, lower back to your starting position and repeat.
Savasana
Lay on your back with your feet and palms dropped and your arms at your sides.
Have your eyes closed and your jaw relaxed; focus inward.

Focus your attention on slowing your breathing deeply. Stay in the pose for 5 to 10 minutes, maintaining slow breathing.
Forward Bend
Stand straight with legs hip-width apart and bend forward down to your toes.

Hold each elbow in the opposite hand and allow your body to hang for 5 deep breaths.
Close your eyes and allow a little bend in the knee to allow for comfort.
Yoga is an effective way to implement great breathing habits for those with asthma, as well as alleviate symptoms or discomfort. Yoga is a great form of exercise for those with asthma as it slows your respiratory rate, encourages calmness and stress relief, and increases breathing awareness. Try out these exercises for an optimal asthmatic yoga experience.