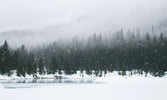 It's officially winter as of December 21st which means the air gets chillier, clothes get warmer and the holiday season is in full swing. Unfortunately, the winter also brings some safety concerns to keep in mind, especially for the elderly or those with conditions like COPD or sleep apnea. If you're hoping to stay as safe as possible this winter, check out the tips below.
Ice and Snow
One of the biggest safety issues for older individuals is maneuvering the icy roads and sidewalks. Since falling is already a concern among seniors, the snowy conditions only make it more important to take proper precautions. Here are some tips to help avoid falls this winter:
Wear non-skid shoes with good traction

.
Stay indoors if possible until snow and ice

are

cleared off

.

Take your shoes off once re-entering the house to avoid slipping on melted snow and ice

.
COPD
Once the temperature drops below 32 degrees Fahrenheit, COPD symptoms often become trickier to manage. These simple changes can help:
Wear a scarf or face mask to prevent the cold wind from making it hard to breathe

.
Avoid walking against the wind

.

Breathe in through your nose and out through your mouth

.

Run

the

oxygen tubing

from your

oxygen concentrator

through the inside of your shirt to keep the air warmer

.
Common CPAP issues such as dry mouth can become even more of a problem when the cold weather hits. Try out these tips to ease the severity of your symptoms:
Rather than cranking up the thermostat, try keeping it between

62- and 68-degrees

Fahrenheit.

This will keep your skin temperature lower which helps many individuals get a better night

's

sleep.

Use a humidifier with your CPAP machine to help prevent dry mouth.

It may be tempting to eat a nice warm meal in the winter but try to avoid heavy meals right before

bed

so your body has enough time to digest food before you

sleep

.
Cold Weather
While dressing warm and preparing for the cold weather is common sense, it can also be overlooked by many. Keep in mind that the cold weather makes sickness more common, so dressing appropriately is one way to avoid those common colds.
Wear loose layers.

Don't forget about a hat, gloves and a scarf.

If it's snowing, consider wearing a waterproof jacket.

If your clothes get damp in the snow, change into dry clothes as soon as you can.
Winter Storms
If the weather is bad enough, winter storms leading to power outages can become an issue during the colder months. Remember these tips for winter storm safety:
Keep a stockpile of warm blankets handy.

Have flashlights and a battery-powered radio ready.

Stock up on some non-perishable food items in case the fridge goes out.
We hope your winter months include time spent with loved ones, warm and delicious food and fun holiday activities all while staying safe. At Advanced Respiratory Care Network, we prioritize your health and provide the products to do so. Reach out if you have any questions!