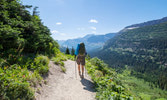 This is the time in Canada when we begin to see more wildfires and the temperature starts to rise, so how does this aggravate your breathing? Wildfires can be a serious threat to our lungs and the air pollution and smoke from them can travel thousands of miles. According to the United States Environmental Protection Agency, the biggest health threat from smoke is from microscopic particles that can penetrate deep into your lungs. We want to share five tips with you to improve the air quality in your home during the summer and wildfire season.
1. Purchase a High-Efficiency HVAC Filter
If you choose to purchase a high-efficiency HVAC filter, choose one with a MERV 13 rating for wildfires. If you are purchasing one for indoor air quality during the summer, a filter with a MERV rating between 8-12 is recommended. These HVAC filters remove air pollutants to maintain healthy air quality inside your home.
2. Reduce Indoor Contaminates
The most cost-effective way to reduce indoor contamination during the summer months is to move certain activities outdoors. These activities could include smoking, painting, cooking, etc. All of these activities can be done outside, which will improve your home's air quality.
3. Use Fans and Air Conditioning to Stay Cool
During a wildfire, do not open windows or doors. Using fans and air conditioning is the best way to stay cool during the scary time. Do not use a window air conditioning unit if you cannot close the outdoor air damper.
4. Reduce the Smoke That Enters Your Home
A major tip we have for you is to reduce the amount of smoke that enters your home. If you have a window air conditioner, make sure the seal between the unit and the window is as tight as possible. Another way to reduce the smoke is to set your HVAC system to recirculate mode. Do not use a portable air conditioner if the hose is vented through the window.
5. Purchase N95 Respirator Masks
These masks are highly effective and can be found at drugstores and hardware stores.
As Canada's peak wildfire season is approaching in July, and summer is right around the corner, it is important to take appropriate precautions and preparations to safely navigate the coming months. We hope these five tips were helpful. If you have any questions, visit our website or contact us.