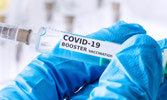 The COVID bivalent booster is the most recent COVID-19 vaccination and can boost immunity against the original strain and the BA.5 omicron variant. Getting the booster is very important for the health and safety of yourself and others around you. Continue reading to find out more information about the COVID bivalent booster and why it is important to get it!
What is the bivalent booster?
Bivalent means that it contains both the original COVID-19 strain that was first present in the United States in 2020 and the omicron subvariants that appeared more recently in the summer of 2022. Pfizer-BioNTech and Moderna are both making the bivalent boosters and they are using the same technology as the original vaccines that were administered to millions of people in the United States.
Why is it important to get the bivalent booster?
Staying up to date with your COVID-19 vaccinations will provide strong protection against COVID-19 and reduce the risk of hospitalization and death from the disease. In recent studies from the CDC, they found that the bivalent booster does provide additional protection against COVID-19 compared to just having the original vaccine. Getting your vaccinations and boosters is one of the best ways to protect yourself and others from the COVID-19 virus and omicron variants.
Are the new boosters safe?
Yes! Because the same process and technology are being utilized as the original COVID-19 vaccines, it is safe and has been proven to be effective. It has just been slightly updated to incorporate both components, the original strain and the omicron variant to provide maximum protection. The FDA, the CDC, and other companies have been closely monitoring the safety of the vaccine and it has been approved and recommended by both the FDA and the CDC.
Who can get the bivalent boosters?
In September of 2022, the bivalent boosters were approved for people 12 years of age and older and, in October, it was approved for children ages 5-11. The CDC recommends that anyone ages 5 and older receive their bivalent booster if it has been at least 2 months since their last COVID-19 vaccine.
Getting your COVID-19 vaccinations and the updated boosters will help ensure safety and protection against COVID-19 and variants for yourself, your loved ones, and everyone around you. Protection is especially important for individuals who are 65 years of age or older and individuals who have a compromised immune system. To find out more information about the bivalent boosters, when to get them, and where to get them, visit this resource page from the CDC and if you have any questions, reach out to our team, we are happy to answer them!