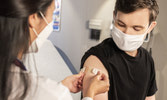 Once you got your first shot of the COVID-19 vaccine, you were scheduled for your second shot either three weeks later for Pfizer/Biotech or four weeks later for Moderna. Life happened and you missed your second shot. So, what now? Do not worry, there is a little wiggle room when it comes to the second dose of the vaccine. Read on to learn more.
Why is getting the shot important?
Getting the shot is important because it can help protect you from the COVID-19 virus. Not only will it protect you, but it can help protect family and friends around you.
What happens if I am late for my second shot?
If you simply forgot about getting your second shot, it's okay - you have a little extra time! You will want to contact your vaccine location as soon as you remember that you missed your appointment and tell them that you are late for your second shot and need it as soon as possible. You just need to make sure that it is within six weeks from your first shot. If it is a few days after the first dose, then it is still okay. When you start nearing the seven-week mark, then it might not be as effective as you have entered the questionable period. During this period, it is questionable whether the vaccine will be as effective. There is insufficient data on whether the booster dose (second shot) would be as effective if administered later than the recommended 3-4 weeks after the priming dose (first shot).
What happens if I miss my second shot altogether?
If you have missed your second shot altogether, then the COVID-19 vaccine won't last as long or be as effective in protecting you as it would have been with both doses. Only having one shot makes it easier to contract COVID-19 as you are not fully protected. With both doses, you would be 90% protected against the virus and therefore have a smaller chance of contracting it.
If you miss your second shot, there is no need to worry about it. Just contact your vaccine location and schedule an appointment as soon as possible, otherwise, you might not be as protected from the virus as you can be.