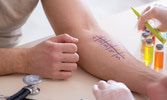 If you've been caught in a never-ending cycle of sneezing and nasal congestion during the summertime, you might be frustrated and unsure of what's causing these symptoms. Identifying the causes of your summertime sneezing is essential for effective management and relief, but it can be challenging to find the exact root cause. In today's blog, we have provided insights that can help you find out what's been causing your summertime sneezing and be one step closer to finding relief!
Track Your Symptoms
When trying to identify what has been causing your summertime sneezing, it can be extremely helpful to track your symptoms. You can keep a journal or type out a few notes on your phone. Document things like frequency, timing, environments, and severity of your symptoms. This can help you identify triggers and find potential treatments for your symptoms.
Common Summertime Allergens
Consider the common summertime allergens, as these might be the contributing factors to your summertime sneezing. Here are a few of them:
Pollen

Weeds such as ragweed and tumbleweed

Grass

Insects such as bees, wasps, and fire ants

Temperature changes

Smoke
Consult With an Allergist
The most effective way to find out what's been causing your summertime sneezing is to consult with an allergist. An allergist can perform an allergy test to help you identify exactly what has been causing your symptoms and come up with an effective treatment plan. At the Advanced Respiratory Care Network, we offer allergy testing at our Edmonton South and Calgary South East locations. To find out more about our allergy testing services, please reach out to our team to get started or click the button below!
Summertime allergies can be a pain, but we can help you find the relief you've been seeking. By tracking your symptoms, considering common allergens, and getting an allergy test done, you can say goodbye to summertime sneezing and hello to a summer filled with clearer breathing, comfort, and fun!