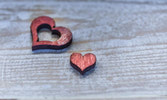 You may have been hearing about the importance of heart health your entire life, but how can you tell if your heart isn't doing so well? Knowing about the most common heart problems and understanding the signs is crucial for catching issues as soon as possible. Keep reading to become more prepared and in tune with what your body is telling you!
Common Heart Problems
Heart disease remains one of the leading causes of death in Canada. The following are some of the most common heart problems in adults today:
Coronary artery disease

Arrhythmias

Heart failure

Aorta disease

Pulmonary embolism

Heart attack

Congenital heart disease
Signs Your Heart Isn't Healthy
Below are common signs you may have a heart issue. Be sure to talk to your doctor if you're experiencing any of these symptoms.
Irregular heartbeat:

It's possible to live a healthy life while having irregular heartbeats, but it's often an indication of heart failure or a heart attack to come.

Shortness of breath:

If you're experiencing shortness of breath while at rest or while sleeping, it could be an indication of heart failure.
Shoulder or chest aches:

Chest pains are a very common sign for a potential heart attack. A slow and gradual pain in the shoulder area also poses

a

concern for possible heart issues.

Inconsistent sleep patterns

:

Sleep problems such as sleep apnea are often linked to cardiovascular issues. If you've recently developed snoring problems or other sleep apnea symptoms, this could be an indication that you're having heart issues.

Heartburn, nausea or stomach pain:

While

all of

these symptoms could easily be caused by something other than a heart issue, it's important to recognize them as they are all common signs of a heart attack.
How Can I Avoid Heart Problems?
Rather than waiting and hoping these signs don't appear, you can take steps to avoid having these problems in the first place.
Maintain a healthy weight

Manage your stress levels

Exercise regularly

Limit your alcohol consumption

Have a healthy diet
Check your blood pressure often

Avoid smoking

Get plenty of sleep

Keep your cholesterol levels under control
At Advanced Respiratory Care Network, we understand the importance of having and maintaining a healthy heart. We're here to offer cardiology consultations and diagnostic services to eliminate your concerns and find the answers you're looking for. Contact us to learn more!