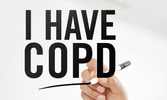 Managing symptoms of chronic obstructive pulmonary disease (COPD) can help improve your overall health and quality of life. Living with COPD can be difficult at times, but learning to safely manage your COPD at home will help you in your day-to-day life. Continue reading to find a few top tips to help you manage your COPD!
Tips to Manage COPD
1. Eat a Healthy Diet
Eating a nutritious diet will help give your body the nutrients it needs to perform its functions correctly. Food gives you energy, and for individuals with COPD, breathing is more difficult and may require more energy. Fueling your body will help you breathe better and be healthier overall.
2. Take Your Medications Correctly
It is crucial to always take your COPD medication as prescribed because your treatment plan is personalized toward your condition and specific needs. Taking your medication correctly will help ensure the maximum effectiveness of your treatment. You may want to try a pill organizer or to set a reminder on your phone if you often forget to take your medication!
3. Quit Smoking
With COPD, your lung function is compromised and by quitting smoking, you can help maintain your lung function and prevent further damage. Quitting smoking can help improve circulation, prevent lung cancer, improve your sense of taste and smell, and help better your overall health.
4. Exercise Regularly
Exercising regularly can help reduce shortness of breath and other COPD symptoms. It is always important to speak with your healthcare provider before you start exercising to ensure that you participate in physical activity that is safe!
5. Learn Ways to Effectively Reduce Stress
COPD and stress are closely related because extreme stress and anxiety can lead to panic and shortness of breath, making symptoms of COPD even worse. Try breathing exercises and relaxation techniques daily to help reduce your stress levels.
Overall, managing your COPD is possible and can easily be done with these 5 helpful tips! If you have any questions about your respiratory health or managing COPD, contact us today or visit our website to learn more information about our respiratory services.