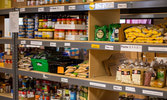 The holidays are quickly approaching and you might be wondering, what do other families need? If this is you, you're not alone, but you are greatly appreciated. Your generosity could improve another family's entire month, week or day depending on if you're wanting to donate your time, money or personal items. If you feel the urge to give this holiday season but just aren't sure on what the right thing is that others need, we're here to help.
Donate Your Time
Sometimes not everyone has extra cash or items to give during the holidays as this can be an expensive time of year. Not a problem! There are many organizations that are local to donate your time to, and if you're local in the Calgary area, this list gives you some ideas.
Donate Personal Items
While many typically think of food items to donate, one thing that often gets left out are personal items. These items are necessary but often left for the family to get or maybe just left out of their life if they cannot afford them. Some ideas include:
Feminine products: tampons, pads, etc.

Soap: shampoo, conditioner, body soap

Deodorant: men's or women's

Linens: bedding, pillows, blankets, etc.

Towels: washcloths, towels, etc.
Donate Food
Food is something that people will always need, especially during the holidays when family's want to make a hearty meal for all to enjoy. Non-perishable foods are often requested but things such as eggs, butter, bread and meat are hard for families to find and fly off the shelves. Powdered milk is also gold for people as it lasts longer! Try to think simple here on what you need to make an entire meal – it will be SO appreciated.
Donate Something Fun
Donating something more 'fun' could be just what some people need to lift their holiday spirits. You could donate this locally or do something like adopting a family and getting them some fun gifts for the holidays. Get a toy that your kids are raving about or the latest book you're reading – this may make donating a little more personal and exciting for you!
Donate Financially
If you don't have time to shop and are financially stable, donating money may be the easiest thing to do – and that's OK! A financial donation is always appropriate and can then be used to get exactly what someone needs that you might not have thought of.
No matter how you donate this holiday season, or throughout any season, the most important thing is that you're giving to others. As a local business ourselves, ARC Network appreciates each and every one of your donations to local charities to help local families this season and wish you Happy Holidays and a Great New Year!