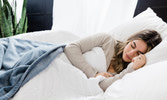 Are you struggling to fall asleep quickly at night? This is a common problem that can be caused by several different factors. We are going to share with you a few tips to help you fall asleep faster!
1. Do Things to Reduce Stress
Stress could be a large factor in preventing you from falling asleep quickly at night. Try using relaxation techniques to calm down and get ready for sleep, this will help in preventing a racing mind and will make it easier to fall asleep. You can practice mindfulness by doing things like yoga, meditation, and breathing exercises, all these things can be beneficial in helping you relax and sleep better!
2. Stay Active Throughout the Day
Staying active and exercising throughout the day is great for your overall health as well as promoting quality sleep. Being active can help your body know that it is time to be awake so you will be more alert during the day, and ready to rest and sleep at night. Be sure to not exercise too close to bedtime, doing this could potentially make it more difficult to fall asleep!
3. Prioritize a Sleep Schedule
Setting a sleep schedule and sticking to it can be very beneficial in helping you fall asleep faster. Waking up and going to sleep at the same time every day can help your circadian rhythms (Your body's internal clock) stay on a consistent schedule.
4. Be Careful with Snacks and Drinks Before Bedtime
If you eat a large meal or snack before bedtime, it may negatively affect your sleep. It's important to avoid foods that are excessive in carbohydrates and highly acidic foods, and it's also good to try to avoid caffeine. A few ideas for healthy bedtime snacks are protein smoothies, oatmeal, fruit, or yogurt!
5. Turn Off Electronics
The blue light that comes from electronics can have a large impact on your sleep. It is best to turn off all electronics before bed. You could set a timer or just set a time each night that you turn off electronics before bedtime. If you absolutely need to use electronics close to bedtime, consider using blue light-blocking glasses to help with the effects that the blue light has on your sleep.
If you are having trouble falling asleep quickly at night, try using these 5 tips to help you fall asleep quicker and get more quality sleep! If you are looking for more information about sleep and how you can promote better sleep, visit our website today!