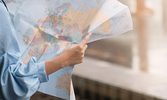 Traveling with an oxygen concentrator during the summer can be difficult due to the effect that heat and humidity can have on the oxygen equipment. To help relieve the stress travelling with your home oxygen equipment can cause, we have a few tips to make it easier, safer, and more comfortable for you to use your home oxygen equipment during the summertime!
1. Make a Plan
Planning is extremely helpful when traveling with portable oxygen. Knowing exactly where you will be and when you will be there will allow you to know ahead of time if it is a safe place for you and your portable oxygen to be. This also gives you time to arrange accommodations or change if necessary, so you do not run into any problems on your trip.
2. Research Travel Guidelines
Researching ahead of time will allow you to know more about guidelines and learn what you need to do with your oxygen equipment while traveling. If you are traveling by air, it is important to discuss it with your airline and see what guidelines and rules they have in place. Examples of airline guidelines you may encounter can be found

here

. If you are traveling by car, you can contact your insurance company and make sure that your car is safe for portable oxygen.
3. Be Cautious of the Weather
While traveling, it is still important to follow all the rules and guidelines for your home oxygen therapy. Keeping up with the weather, for example, will allow you to make sure you do not get caught in a storm, putting your portable oxygen concentrator at risk of getting wet. Also, watch for the temperature, it can get extremely hot during the summer months. It is important to keep your portable oxygen concentrator in a cool environment.
4. Pay Attention to the Battery
When traveling, it is especially important to make sure that your equipment is charged and ready to go. Knowing when and where you will be able to charge it ahead of time will make your trip smoother and you can be sure that your home oxygen equipment will always be charged.
Traveling with a portable oxygen concentrator may seem intimidating or difficult, but with these four tips, you can travel safely! Planning your trip may look different if you have never traveled with oxygen equipment, but you can still have a fun summer and do the things that you enjoy!