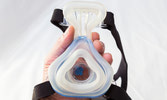 Not only is a dirty and smelly CPAP or BiPAP machine not enjoyable to use, but it can also lead to some dangerous bacterial infections. Cleaning your machine and accessories properly is crucial to making sure you're getting the most out of your PAP therapy. We're here to break down the process step-by-step for your convenience!
How Often Should I Do This?
How often you clean your CPAP or BiPAP machine depends on what parts you're cleaning. The following parts should be cleaned daily:
Water chamber

Tubing

Mask cushion
It's recommended that you clean the following parts at least 2-3 times per month, or once a week:
Let's Get Started!
Now that you know how often you need to follow this guide, it's time to jump in and start the cleaning process.
Gather your materials.
Set up your cleaning station by gathering the following items:
All parts of your CPAP

equipment

Warm water

in a sink or tub

Mild and antibacterial soap

Cloth for cleaning

Towel for drying
Unplug your device and disconnect the parts.
Don't forget to unplug your device to avoid the dangers of electric shock since you're working with water. Then, disconnect the mask and tubing until all re-attachable parts are separated.
Rinse and soak.
In your sink or tub, start by rinsing off each part with warm water and wiping down the external surfaces with the cloth. In a tub of warm water with gentle antibacterial soap, submerge all the parts into the soapy water. Let them soak for about 30 minutes.
Rinse

again.
Now that all parts are disinfected, it's time to rinse the soap off with warm water.
Air

-

dry overnight.
Lay out a towel and lay everything on it to dry. Make sure the tubing is in a position that allows the water to drip out, so it doesn't sit inside the tubing. Try hanging the tubes over your shower curtain rod for the best air-dry environment.
Reassemble

, test

and use.
Once the equipment has air-dried, it's time to reassemble all the parts. Before using your CPAP or BiPAP machine, turn it on and listen for any new and unwanted air leaks. If the coast is clear, you're set to use your machine again!
Things to Avoid
When it comes to cleaning your CPAP or BiPAP machine, there are certain cleaning solutions you should avoid since they can be harmful to your equipment and respiratory system. These things to avoid include, but are not limited to:
Bleach

Scented solutions or essential oils

Alcohol

Washing machine

Dishwasher detergent
CPAP Cleaning Devices
If you're looking for products to make this process easier, we offer cleaners like the SoClean or SoClean 2 CPAP sanitizing systems. For simple, everyday disinfecting, you can try out the CPAP mask wipes or the travel wipes. We also offer disinfecting soap specifically made for CPAP cleaning purposes.
If you or your loved one uses a CPAP or BiPAP machine and doesn't take sanitizing very seriously, now's the time to start. With the right products and a quality, step-by-step guide like this one, you'll be on your way to a healthier and cleaner night's rest. Contact us to learn more about how we can help!