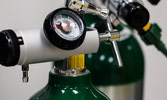 Oxygen Tank Safety Guidelines to Follow
Oxygen therapy is here to improve your quality of life by providing you with less fatigue, better sleep and less shortness of breath. While oxygen is a relatively safe gas, it holds the danger of feeding fire much quicker. While you get used to your new oxygen tank, it's important to keep these safety guidelines in mind at home and around others.
General
Things to Avoid
The following list includes general things to avoid when using or being around oxygen therapy. In the following sections, we'll go into detail about these points. AVOID:
Flames/Sparks

Smoking

Flammable products

Extension cords


Tips for Staying Safe
in the House
Keep your distance:

Stay at least

5

-10

feet away

from heat sources, open f

l

ames or anything that could cause a spark

.

Check electrical equipment:

Keep a

ny

thing electric

, including the

wires

, properly grounded if in the vicinity of the oxygen.

Use smoke alarms:

Make sure you have smoke alarms in the house, and if you do, check them once a month.

Beware of flammable products:

You'd be surprised how many everyday products contain flammable fluids. Stay away from things like aerosol sprays, cleaning fluids, paint thinner,

gasoline and more.

Avoid electric razors:

Electric razors are a possible source of spark

ing

, so make sure your oxygen is out of sight while you're using one.
Have a fire extinguisher at hand:

It's smart to have a fire extinguisher ready to go just in case an accident happens.
Tips for Staying Safe in Public
Transport correctly:

Make sure you're transporting your oxygen correctly when you leave the house.

For example, you should n

ever transport your oxygen tank in the trunk of a car

since it could

cause injury

in the case of a rear-end collision.

Use the right outlet:

I

n public

places,

it's important to only use grounded outlets. N

ever use a power board or extension cord because of the risk of overheating and starting a fire.

Stay away from smokers:

Not smoking near

your

oxygen tank may be obvious to you, but non-oxygen users might not be aware of the danger

. When you're around others, make sure they know to never smoke

anywhere

near your oxygen equipment.
Keep your oxygen upright:

Leaving the house leads to a greater risk of your oxygen cylinder being knocked

down

. Secure it to a fixed object to avoid the possibility of it

toppling over.
When handled correctly, oxygen is safe and non-explosive. It's important for both oxygen users and non-oxygen users to keep these safety precautions in mind to keep both themselves and others safe. Read here about the oxygen equipment we offer, and feel free to contact us with questions.