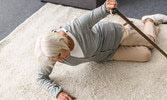 Aging in place is what most older adults want as it gives them a sense of independence, so they do not have to rely on others to help them. However, as they get older, they become more at risk of falling. There are preventative measures that you can take in each room of their house so they can still live in the comfort of their own home while you have the peace of mind you need to know they are safe.
The Front Door
The first place to start when making your loved one's home fall proof is with the front door. Here you want to make sure there are no wobbly or cracked steps. You want to fix this issue as soon as possible to make sure your loved one can safely get into their home. Along with making sure that the steps are safe, you would want to make sure that there is a light so they can see where they are walking. This will decrease the chances of tripping on the stairs or missing one. Lastly, consider adding a grab bar. This will give your loved one something to hold on to while they are trying to get into their house.
Kitchen
In order to decrease the chances of falling in the kitchen, start by moving the products they use the most to arms reach and not on a high shelf. This could include plates, bowls, cups or even seasonings. By doing this, it will allow them to reach the things they need and not have to get out a step stool or ladder. Also, make sure if things are spilled, they are cleaned up right away. This will make sure no one slips and falls.
Stairs
Stairs are a place where a lot of people fall. Do not let your loved one be one of those. Install good lighting at both the top and bottom of the stairs so they can see where they are walking. Also, consider adding a second hand rail so there are more options for them to grab onto while walking up or down the stairs. You also want to make sure there is no clutter on them as it would increase the risk of tripping and falling. Finally, if all else fails and they are less stable but still use the stairs, you can install a stair lift that will bring them up and down safely.
Bedroom
Staying safe in the bedroom is also important. Make the light is easy to reach from the bed. That way if your loved one has to use the restroom during the night, they do not have to walk across the room in the dark just to reach a light switch. By doing this, they could trip over stuff and therefore fall. Also, you could consider installing a bed rail. It fits nicely between the mattress and box spring and gives the support that is needed to get in or out of bed.
Bathroom
The bathroom can be the place where most older adults fall. This could be in part because of the water that comes from the shower or that drips off your hands from washing them. Either way, there are some things you could do to make sure that your loved one stays safe while using the bathroom.
The first thing you could consider installing is grab bars by both the toilet and shower. This will give them a place to grab getting off the toilet or in and out of the shower. Plus, if they feel like they are about to fall, it gives them a place to hold onto. Other things to consider putting in the bathroom could be a non-slip rubber mat in the shower or tub as it will prevent slipping or shower chair and handheld shower head as it will prevent reaching and therefore the risk of falling.
By implementing these small changes to your loved one's home, it will allow them to stay where they feel most comfortable for longer. Most older adults like to stay in their home as it gives them a sense of independence. Using these tips will give them the independence they want while giving you the peace of mind you need. For more great tips, read our blog!