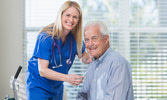 Traveling is such an exciting experience and being on home oxygen shouldn't stop you from exploring the world! With the right planning and tools, you can embark on any journey and ensure a smooth trip, even with your home oxygen! We want to help make your travel planning easier, so we'll be sharing some essential tips for traveling with home oxygen. Let's jump right in!
Tip #1: Work Closely with Your Airline
As soon as you start planning your trip, you should contact your airline right away to let them know that you will be flying with home oxygen. You can find out more about their policies regarding flying with home oxygen and they can plan for accommodation if needed, to make sure your flight is smooth and stress-free. Some airlines will require you to show your oxygen prescription and other forms, so be sure to have those ready before your flight.
Tip #2: Consider Using a Portable Oxygen Concentrator
Portable oxygen concentrators (POC) are much easier to travel with as they are compact, lightweight, and are usually always approved for travel. Portable oxygen concentrators are battery-powered, allowing them to provide oxygen throughout the duration of your trip.
Tip #3: Plan to Arrive Early
Because flying with an oxygen concentrator is much different from flying without one, you will want to arrive at the airport early to ensure a smooth day at the airport! This will give you enough time to check in and be on time for your flight!
Tip #4: Pack Extra Supplies
As you are packing for your trip, you will want to make sure that you have all of the essentials with you. Don't forget things like extra tubing, nasal cannulas, face masks, cleaning supplies, and power adapters. It will be helpful to keep your extra supplies in your carry-on, so they are readily available as you need them!
Tip #5: Don't Forget to Take Care of Yourself
Traveling is busy and physically and emotionally tiring! As you travel, take breaks and rest when you need it! Staying hydrated and rested will ensure that you will have enough energy throughout your entire trip!
Traveling with home oxygen is possible and can be easily done with these five helpful tips! If you have a trip coming up, don't feel intimidated by the thought of traveling with home oxygen. With careful planning and preparation, you can travel with ease! At the Advanced Respiratory Care Network, we can help you safely travel with your home oxygen. Visit our website to find out more about how our team can help you!