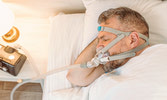 One of the most common questions asked by CPAP users is: "Can I travel with my CPAP machine?" and the answer is yes! Most CPAP machines are easily portable and can be taken anywhere, but for CPAP users who are also frequent travelers, having a travel CPAP machine could be beneficial. If you think you may need a travel CPAP, join us as we explore the benefits of having one!
Benefits of Using a Travel CPAP
Quiet Operation
Many CPAP machines, especially travel machines, offer quiet operation, making them perfect for traveling as they won't disrupt anyone around you.
Compact and Lightweight
If you're a frequent traveler, especially by plane, having a travel CPAP makes traveling much easier and more convenient. The compact design of these machines makes packing them in your luggage a breeze!
Battery-Operated Capabilities
Many travel CPAP machines offer battery-operated capabilities, allowing you to continue using your machine even when a power source isn't nearby. This feature makes traveling easier especially when camping or during an overnight flight.
Ensures CPAP Compliance
Having a travel CPAP can help you stay compliant as you'll never have to miss a night of therapy, improving the overall effectiveness of your CPAP therapy.
Automatic Features
Many travel CPAP machines are equipped with automatic altitude adjustment and pressure setting features. These advanced features allow the user to receive effective and comfortable CPAP therapy even when traveling.
At the Advanced Respiratory Care Network, we can help make traveling with your CPAP machine easy and convenient! We offer reliable travel CPAP machines as well as a variety of masks and accessories! For more information about traveling with your CPAP equipment, visit our website or connect with our team, we're happy to answer any questions you may have. Browse our available CPAP Machines by clicking the button below.