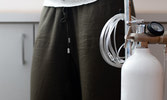 Home oxygen therapy provides essential respiratory support to individuals with breathing difficulties, such as chronic obstructive pulmonary disease (COPD), cystic fibrosis, or other respiratory conditions. While it is an invaluable lifeline for many, it often brings with it a set of emotional and social challenges. In this blog, we'll explore how to cope with these challenges and maintain a fulfilling life while on home oxygen therapy.
Emotional Challenges
Living with home oxygen therapy can give rise to a range of emotional challenges, including anxiety, depression, lower self-esteem, and identity concerns. Here are a few coping strategies that can be used to help combat these emotional challenges:
Anxiety and Depression:

Seek professional help from mental health experts, engage in support groups, and practice

relaxation

techniques to manage anxiety and depression.

Self-Esteem and Identity:

Focus on your abilities rather than limitations. Pursue activities that bring joy and surround yourself with supportive friends and family who value you beyond your medical condition.
Social Challenges
Individuals on home oxygen therapy often face social challenges related to stigma, isolation, and a perceived loss of independence. Coping strategies for these social challenges include:
Stigma:

Educate your social circle about your condition and the necessity of oxygen therapy. Most people will be empathetic once they understand.

Isolation:

Plan outings and activities that accommodate your oxygen needs. Using a portable oxygen concentrator can enhance your mobility and confidence as well as make

traveling

easier.
Helpful Strategies
Consider these strategies that can make life on home oxygen therapy more manageable.
Portable Oxygen Concentrators:

Explore portable oxygen concentrators or smaller, lightweight oxygen tanks that provide mobility and reduce confinement.

Scheduled Breaks:

Plan short breaks without oxygen when it's safe and approved by your healthcare provider.

Support Groups:

Join support groups for individuals on oxygen therapy. Sharing experiences and coping strategies with others who understand can be invaluable.

Education:

Learn about your condition and oxygen therapy to reduce anxiety, improve compliance, and ensure

safety

.
While home oxygen therapy may introduce emotional and social challenges, addressing these issues with a proactive approach is essential for maintaining a fulfilling life. Seeking support from healthcare professionals, connecting with support groups, and making practical adjustments to your lifestyle can empower you to continue engaging in activities and maintaining a positive outlook on life. Your medical condition does not define you, and with the right coping strategies, you can thrive while on home oxygen therapy.
At Advanced Respiratory Care Network, we provide a complete range of services to fulfill clients' home oxygen needs. Our services include comprehensive patient education, 24-hour on-call support from our Registered Respiratory Therapists, and so much more. Visit our website or contact us for more information. Our team is here to support you throughout this entire journey of home oxygen therapy, ensuring you receive the highest quality care and guidance every step of the way.