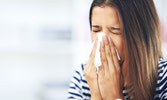 Although many people believe that they are safe from allergens during the winter months due to spending the majority of our time indoors, there are still potential allergens inside of our homes and buildings that can cause allergy symptoms during the winter. As we begin to spend more and more time inside, keep in mind the allergens can become trapped because of the insulation in our homes. These allergens can trigger allergy symptoms throughout the winter season. Continue reading to find out more about what causes winter allergies and a few tips to help you combat them!
Common Winter Allergy Triggers
Pets

– It is common for individuals to be allergic to pet dander, saliva, and urine.

Dust Mites

– Dust mites can be found anywhere in your home, most commonly in mattresses, bedding, couches, and carpet.

Mold

– Mold thrives in damp humid areas and is usually found in the bathroom or basement inside the home.
Common Winter Allergy Symptoms
Itchy Eyes

Runny Nose

Sneezing

Coughing

Sore Throat

Congestion
Treating and Preventing Winter Allergies
Medications

– There are many over-the-counter medications like antihistamines and medications that have acetaminophen that can be effective in reducing allergy symptoms.

Nasal Rinses

– Nasal sprays and rinses can help to keep the nasal passages clear of any allergens.

Immunotherapy

– Immunotherapy can include allergy shots to help reduce allergy symptoms.

Prevention Tips:

Get rid of moldy shower curtains or carpet that has mold.

Dust and vacuum your home regularly.

Bathe pets regularly.

Wash your pet's toys, bedding, food bowls regularly.

Wash all bedding in hot water once a week.

Utilize an air purifier.
Allergies can affect us year-round and can negatively affect our everyday lives. It is important to take precautions to prevent winter allergy symptoms and to treat them correctly. If you have winter allergy-related concerns, contact the Advanced Respiratory Care Network today!