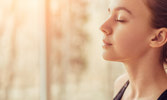 Just like exercising your body makes your muscles stronger, doing breathing exercises will strengthen your lungs. Whether you haven't experienced COVID-19 yet, are a current patient, or are in the process of recovering, these exercises will improve lung capacity to both prepare you and help you recover quicker.
Dr. Munshi's Technique
A British doctor, Dr. Sarfaraz Munshi, demonstrated a breathing exercise in a YouTube video for COVID-19 patients to try out.
Take a deep breath in then hold your breath for five seconds, before releasing.

Do this five times, for a total of five breaths.

Take a sixth breath, then cough strongly at the end of it while covering your mouth.

These six total breaths are considered one cycle, and you should repeat this cycle twice.
Stomach Breathing
Dr. Munshi explained how the majority of your lung is on your back rather than your front. Doing breathing exercises on your stomach doesn't close off smaller airways like laying on your back would.
Begin by finding a comfortable flat surface such as a bed or couch.

Lay flat on your stomach with your head resting on your hands.

Simply breathe in and out for 10 minutes, focusing on taking slightly deeper breaths than normal.
Diaphragmatic Breathing
The goal of this exercise is to slow your breathing rate and decrease your oxygen demand.
Start by laying down

with your knees bent and your head supported. Use a pillow under your knees for extra leg support if desired.

P

lac

e

one hand on your chest and the other on your stomach

, below your ribcage.

As you breathe in

through your nose,

modulate your breathing by feeling the expansion of your abdomen.

Focus on tightening your stomach muscles then let them fall inward as you exhale.
Pursed Lip Breathing
The final exercise aims to control shortness of breath and expand your airways. It's a quick and easy way to slow your pace of breathing, making each breath more effective.
Relax the muscles in your neck and shoulder.

Inhale through your nose slowly (for about 2 seconds) while keeping your mouth closed.

Purse or pucker your lips as if you were going to whistle, then slowly exhale through your pursed lips. Count to four as you

exhale and

repeat as many times

as necessary until you have complete control over your breaths.
COVID-19 causes your respiratory system to face various challenges but doing breathing exercises like the ones explained above will help you during recovery. Contact us with any respiratory questions you have or to check out the products and services we offer!