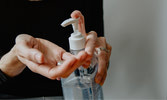 We are now over a year into the COVID-19 pandemic and individuals are starting to explore the world outside their homes again. The CDC recommends that you still wear a mask on public transportation and when you're around others who are not in your household. As you and your loved ones start venturing out, it's important to continue practicing safety guidelines established by the CDC for COVID-19 infection control. Keep reading to learn how you can stay safe as you travel around town and the country.
Maintain Face Mask Hygiene
While traveling outside of the home, it's important to maintain face mask hygiene. This includes wearing masks that are clean, have clean filters and fit your face properly. When you're choosing a mask, make sure that it fits appropriately. A loose-fitting mask creates air pockets around your face where the virus can still make its way into your system. According to the CDC, masks should, "Completely cover the nose and mouth" and "fit snugly against the sides of the face and not have any gaps."
To make sure you're always wearing a clean mask, you can keep a few clean masks in your home and your car. If you always have clean masks stashed away in your glove box, you never have to worry about forgetting one at home! Then, once a mask is dirty, you can bring it inside to be washed and you'll still have extras in your car. If you prefer to use disposable masks, just keep a box of those in your glove box! If you go this route, you may want to keep a grocery bag in your car to dispose of the masks when you're done.
If you're going the reusable mask route, it's a great idea to choose masks that have a pocket for filters. Filters offer another layer of protection between airborne virus particles and your respiratory system. You'll want to check the instructions on your packaging for the manufacturer's recommendation on when you need to change the filter. To be extra safe, you can buy a pack of replaceable filters and keep those in your car next to the reusable masks!
Pack a Travel Safety Kit
It's one thing to protect yourself from the virus by staying home, but it's a whole new ball game when you need to leave the house. We recommend keeping a travel cleaning kit in your car or purse for those times when you can't avoid germs from the outside world. After the last year, many companies have developed their own pre-packaged travel cleaning kit, so you can always go that route! However, it's more cost-effective to stock up on supplies and simply resupply your travel kit when necessary. Below is a list of everything you need to stay safe on public transportation, but you can always pick and choose what you want to put in your kit based on your travel needs.
Travel Safety Kit:
Disposable masks in case you forget your reusable

one

Hand sanitizer or antibacterial hand wipes

Facial tissues with a baggie in case you can't dispose of them right

away

Airplane seat cover

Airplane travel pocket liner

Your own disposable cutlery
When traveling on an airplane, it's important to remember TSA guidelines. So, you'll need a hand sanitizer bottle that holds no more than 3.4 ounces and a clear bag to hold all of the supplies if you plan to pack the kit in your carry-on. Be sure to put it in a place that's easy to get to so you can take it out and put it in its own bin during the security check. Follow these guidelines and your next trip will be safe and smooth!
Pick Safe Businesses to Visit
If you're feeling cramped up in your home like most of us are by this point, it's understandable that you want to get out of the house. Before you go out, it's important to plan ahead so you remain safe from COVID-19. If you live in an area with widespread restrictions, it's safe to assume that any establishment you visit will follow the same guidelines and you likely only need to bring your mask and hand sanitizer wherever you choose to go.
However, if you live in an area that has lifted some or all COVID-19 restrictions, it will require more work for you to plan ahead. The easiest ways to plan ahead are to:
1) Look up the business you plan to visit online to see what their COVID-19 protocol is
2) Call the business to ask about their COVID-19 protocol
At this point, it's safe to assume that places like hospitals and doctor's offices are following CDC guidelines. But if you're going to a place that is not required to follow the CDC's advice, it's best to look up their protocol! That way you can choose another place to visit if their standards don't make you feel safe or you can ask for adjustments ahead of time.
For more ways to stay safe during COVID-19 or to help your respiratory system, check out our blog! We're always here to help you breathe easier and live better.